Taming the challenges of outdoor theater
by Anne Wilder
Spring is a time of focused preparation for staff at American Players Theatre (APT), the acclaimed open-air theater in Spring Green, Wis. The grounds are alive with activity you'd expect to find at any theater with little time left before the season's first show. Carpenters are building sets in the shop. Actors are running back and forth between rehearsals and costume fittings. But at APT, one crew of production assistants is tackling a less theatrical problem—what to do with a family of flying squirrels that currently resides under the stage.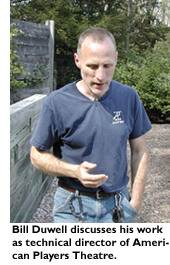 "We need to move them so we can clean and repair that area of the stage," explains Bill Duwell, APT's technical director. "My assistant had already moved the family once and the mother moved them right back in again. So the discussion of the day is what to try next."
Dealing with wildlife is just the sort of problem that makes APT what it is. Says Duwell, "Being outdoors is all part of the experience of APT. You do your best to work with it."
Duwell has been at APT for 11 years, plenty of time to become comfortable working with nature and still get the job done. As technical director, he helps staff and crew find the same balance. "I work with a complex system of folks who do their thing and contribute. My goal is to help everyone else do their job as smoothly as they can and with the highest quality possible."
How does one walk the line between respecting the natural setting of APT and producing theater that attracts over 100,000 patrons per season? "You don't fight nature here," explains Duwell. "Instead you ask yourself, how do we better the experience of seeing theater outdoors? We can't cover the place and block out the stars. But on really hot days, we put up a pre-shaped parachute to protect the audience or to cover the actors who are passing out during rehearsal."
Duwell describes his position as part custodian, purchaser and carpenter. Since much of his time is spent working with designers who create the sets for the five-play season, he could add facilitator to his list of duties. From experience, Duwell knows well what works and what doesn't in APT's 1,148-seat amphitheater. "When we can, we bring designers out to the campus before they ever get hired so they understand the setting."
Designers must account for a variety of factors when creating their plans. Of course, weather and temperature variances are two big ones, especially since the APT season runs from mid-June to early October. "Because of that, we use a lot more steel than most companies do to beat warping, and we try not to use a lot of fabric because it takes time to dry after a rainstorm," notes Duwell.
Designers must also consider that the season's plays are presented in rotating repertory, a system that allows weekend visitors to see four different shows in two days. As Duwell explains, "The deck crew will change the scenery up to twice a day. Every platform must break apart in many pieces so it can be quickly taken apart and reinstalled."
In general, says Duwell, the "APT way" is to skip fancy tricks (motorized sets, for example) because they often fail. "Instead, we rely on people power or simple things that we know are reliable."
Even with these considerations, "We try to say 'yes' to the designers as much as possible because we don't want to limit their creativity." Duwell stresses, "Planning on paper is of the utmost importance before you even begin to build. We give time for all parts to communicate and be creative." The planning begins earlier every year because there are fewer surprises that way. But even then, "There are times when an idea won't work and we have to find a creative solution," says Duwell.
Many designers return to APT season after season. "Our setting appeals to a certain type of person and these people want to come back," says Duwell. "And we work to make the staff's experience a great one so they'll arrange their schedules to return."
APT has plans to add more buildings to the property, to ease the burden of overcrowding in the air-conditioned "Bravo Center" at the bottom of the hill, which houses a number of functions: rehearsal space, the costume shop, scene shop, administrative needs and storage. "But," says Duwell, "we make a conscious effort to preserve nature on the property, so we're saving the oak trees if at all possible."
---
For more information:
American Players Theatre's 2009 season includes "The Comedy of Errors ," "The Philanderer," "The Winter's Tale," "Hay Fever ," and "King Henry V." For more information, visit APT online at www.playinthewoods.org.