Janesville Performing Arts Center boosts Rock County arts scene
This fall, a project seven years in the making will finally become a reality in Janesville, and area arts groups couldn't be more thrilled.
Rock County is home to numerous performing arts organizations, including the Beloit Janesville Symphony Orchestra, Badger Chordhawks and SpotLight on Kids. Until now, they have not had a shared, state-of-the art space to rehearse and perform. But, with the construction and opening of the new Janesville Performing Arts Center (JPAC), the arts community and the wider public will benefit. Groups will be able to do more, and audiences will have a better, more comfortable experience—and all of this will take place in a facility that has been a longtime part of the fabric of Janesville.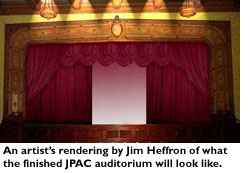 The finished project will include a restored, 650-seat theater including a balcony, extended stage, upgraded light and sound systems, air conditioning, handicap accessibility, an entryway and spacious restrooms. A social area, box office, staff offices and performers' preparation spaces are also part of the mix. Laurel Canan, previously the administrator of the fundraising campaign to create JPAC and now its executive director, says the lobby area will be used as an exhibition space for area visual artists.
JPAC's unique setting lends it character. Its site is the original Janesville High School, which opened in 1923. The building was used continuously as a school until December 1996, when the Janesville school district sold the building to Stone House Development of Madison.
The school is a wonderful example of 1920s architecture. Inside the three-story brick exterior, the building is filled with carved wood, Prairie Style stained glass and ornate plaster molding. Ron Sutterlin of Sutterlin Restorations is painstakingly refurbishing the plaster. As part of his work, Sutterlin will be restoring massive lighting fixtures from the auditorium. To replace some of the broken ones, he will cast molds from the intact fixtures to create new ones identical to their period counterparts.
The rest of the school building has already been converted by Stone House to an unusual apartment building with 55 units. Stone House oversees hallways, grounds and exterior maintenance. This arrangement allows JPAC to operate the theater spaces in an economical manner, with responsibility only for leased space, facility utilities and auditorium maintenance.
The fall 2004 opening of JPAC is the result of cooperation between several entities. Its history dates back to 1997, when Janesville citizens were presented with a rare, generous and timely proposal: lease the former auditorium and music wing of the former Marshall Middle School for use as a community performing arts center. In response to this offer from Stone House Development, a board of community members organized as the Janesville Performing Arts Center to oversee the restoration and operation of the facility. The JPAC Board of Directors consists of seventeen community leaders in business and the arts.
To date, over $4 million has been raised for the project: $2 million in private funds, plus another $2 million that is evenly divided between a $1 million anonymous donation and $1 million in matching funds from the City of Janesville. The cost of the base project is estimated at $3.6 million. Construction began in November 2003 and will be completed by August 1, 2004.
When the doors open this fall, JPAC will be the premier performance venue for more than thirteen Janesville-area performing arts organizations, many of which are currently performing in local school auditoriums. The facility also will be available to non-arts organizations, and JPAC itself will schedule events in the facility.
The Main Street location of JPAC is also expected to contribute significantly to downtown revitalization, benefiting not just arts enthusiasts but also the community as a whole.