Day Trip: Whitewater and Fort Atkinson
Arts abound in rural communities
Your Tour Guide: Leslie LaMuro, UW-Whitewater's Young Auditorium
When most people think of Wisconsin, they think of dairy farms, the Dells, Northwoods getaways—and, I hope, the arts! The arts are alive not only in big cities, but also in rural communities like Whitewater and Fort Atkinson. Their citizens recognize that these natural settings are inspirational for artists and a great draw for travelers who want a picturesque drive to their cultural destinations.
There's enough to do in each town that you can make separate day trips to Whitewater and Fort Atkinson. Or, if you prefer, pick and choose your favorites from the suggestions below and craft your own customized, one-day excursion to both communities.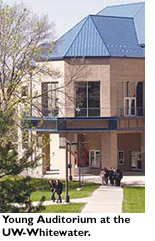 Whitewater
Whitewater is the home of the University of Wisconsin-Whitewater, known for its rich cultural attractions. These include Young Auditorium, the Theatre/Dance Department, Crossman Gallery, SEAL (Student Entertainment Awareness League), Roberta A. Fiskum Art Gallery, the Music Department, the Bramblett Chamber Music Series and Music Mosaics. Some of these organizations operate year-round, while others are scheduled only while classes are in session. To find out what's happening on the day you plan to visit, check out the Arts and Entertainment page on the UWW Web site, or call the University at 262-472-1234.
Young Auditorium features eclectic national and international artists. The theater seats 1,300 and offers excellent acoustics and technical capabilities
that enhance the performances. The Theatre/Dance Department offers nine student productions throughout the entire year, including musicals, drama, dance and classical theater. The Music Department offers student and faculty recitals, Holiday Galas, and band, symphony and choral concerts from October through May at the Greenhill Center of the Arts. The Crossman Gallery exhibits visual art and organizes related educational activities. SEAL and the Roberta A. Fiskum Gallery bring wonderful artists to campus during the academic year. Check the websites of these various organizations for more specific details about their offerings.
The Whitewater Arts Alliance has contributed greatly to the arts in the area. The organization repainted a mural titled "Prairie Tillers" in downtown Whitewater, and it has begun a rotating art gallery at The Sweet Spot on Whitewater Street, where you can find a great cup of coffee and delectable sweets. The Whitewater Arts Alliance plans an annual arts event; the May 2010 event, "Thinking Outside the Box," displayed artfully decorated boxes created by local artists on Main Street light poles. The downtown area has become a home for several art galleries including Studio 84 and The Guild on the Triangle with the beauty of nearby Cravath Lake.
Of course, summer brings visitors to the area not just for the arts, but also for the outdoors. Tourists enjoy the beautiful lakes, Kettle Moraine trails and scenic areas. For example, the Cravath Lakefront is a summer destination you won't want to miss. On Thursday nights, performances, children programs and hands-on activities are free to the public. Paddleboats, kayaks and fishing poles are available to rent as well, along with a concession stand that will offer something for all. Rentals fees for kayaks and/or paddleboats are just $3 for 30 minutes or $5 for 60 minutes. For more information please contact Michelle Dujardin at 262-473-0121 or visit www.ci.whitewater.wi.us.
Fort Atkinson
Just seven miles away in Fort Atkinson, the arts are flourishing as well. Downtown has added a Riverwalk and bike trail that winds through the community for miles, taking you past many cultural attractions. If you enjoy a lazy canoe ride down the river, check out the canoe/kayak rentals from Rock River Canoe Rental . However, if making your own canoe is something you have always wanted to try, Rock River Canoe Company is the place for you. You can purchase a handcrafted, water ready wooden boat--or join the gang and craft your own, with guidance from Kim Grunow. There is a wide range of outdoor gear available for purchase in the store as well.
Fort is home to Fireside Dinner Theatre, which has presented Broadway-quality professional theater since 1978. It's the state's largest year-round group travel attraction. Other offerings in town include the Hoard Historical Museum and National Dairy Shrine, which houses wonderful treasures with sixteen exhibit rooms, ranging from period displays to modern exhibits. 2010 marked the 50th anniversary of a museum tradition, the Mary Hoard Art Show, which features area student art each spring.
The Fort Atkinson Arts Council recently reinvented itself and has been creating art happenings in Fort Atkinson. They host gallery walks in downtown Fort Atkinson, aid in Farmers Market Art Saturdays several times during the season and give theater mini-grants for emerging arts groups in the area. Keep your eyes open for arts events happening all year round by visiting the Fort Atkinson Arts Council website.
Plan your visit for a Saturday morning during the growing season so you can stop by the Fort Atkinson Farmers Market, where you'll find a great mix of local produce and meats, live music, local crafters and friendly folks. The market features organic cheeses, cheese curds, grass-fed beef, organic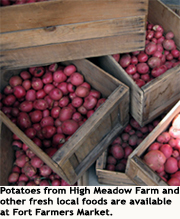 chicken, local elk, sausage and fish, shrimp platters, wheat bread, speciality breads, French artisan baguettes, honey, jams, mustards, hot fudge sauce, syrups, pancake and bread mixes, arts and crafts and more!The market season runs in June, July and August, with a spring preview in May and special fall harvest dates in October. Check the market calendar for the monthly special arts events, featuring ten or more additional arts and crafts vendors. You'll find works by woodworkers, knitters, quilters, jewellers, ceramists and more! The Fort Farmers Market is conveniently located in downtown Fort Atkinson in the Milwaukee Street municipal parking lot, across from the post office, and just one block off of Main Street next to the River Walk.
One of Fort Atkinson's coolest hotspots is the Café Carpe bar, restaurant and music venue, which showcases nationally-known singer-songwriters and offers delicious homemade food using local sources whenever possible. Don't miss Kitty's desserts--they are to die for! In summertime enjoy riverside dining or cocktails on the screened back porch. Nightlife is not lacking
in this area, as there is also the eclectic Velvet Lips Bar and Grill located on Main Street; in summer, enjoy Catfish Alley or dining on the floating deck. If you are cruising on your Harley, stop by Fat Boyz Bar and Restaurant on Main Street for fun, food and entertainment. Or travel south on Highway 26 to find the Central Coast Restaurant and Dance Club, where you'll find a great selection of food and fine wines from the central coast of California. The decor is elegant and chic and the menu is anything but small town!
Many artists live and work in the Fort Atkinson area. Gerald P. Sawyer Art, located on the outskirts of Fort Atkinson, specializes in bronze and pewter sculpture. Sawyer's work can be seen in downtown Fort Atkinson as two life-sized, kneeling American Indian sculptures, and the "Fireflies" sculpture of three children releasing fireflies. Jeremy Pinc is another eclectic local artist, a painter who flirts with different styles and mediums with ease, he embodies the Renaissance man in that he plays and composes music, writes plays and poetry and lives simply and completely through his art. Ceremic artist Mary Pratt creates whimsically beautiful cups, teapots and other useful art objects; she shows mainly at art fairs and at the Grace Chosy Gallery in Madison. Look for new developments on her website.
Sandhill Designs is owned and operated by Bill Bale and features Arts and Crafts-style furniture, built for modern lifestyles. Whether you prefer antique-inspired Mission furniture or unique modern pieces, all Sandhill designs are crafted in this workshop Fort Atkinson on Highway J. Beautiful furniture created to last generations.
Another local find is Fort Atkinson Community Theater, called FACT, in existence since 1962. FACT has presented over 125 plays and musicals in its 48-year history, entertaining thousands and giving residents a chance to be part of the theatrical process.
With these many suggestions in mind, you can pick and choose to structure your own Whitewater/Fort Atkinson day trip, centered around your own interests.