Dr. Evermor
With his pork pie hat and gray hair swept back at his temples, Dr. Evermor looks a bit like Frank Lloyd Wright.
Wright's famous Prairie Style used elements of nature in architectural design, and Evermor's fame has come from using elements of industrial design in the prairie. Taking salvaged factory parts from Wright's era and before, Dr. Evermor fashions sculptures that evoke the natural world or appear to be fantastical machines.
The centerpiece of his sculpture garden south of Baraboo is the Forevertron, a massive celestial traveling device that is also the world's largest scrap metal sculpture.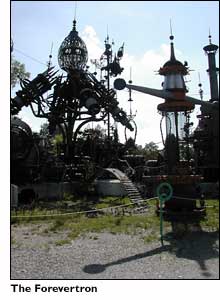 Evermor, also known as Tom Every, has seen a lot of scrap metal in his time, first as an industrial salvage operator, then after he starting seeing scrap metal differently, as a folk artist. Though he does not call what he does "art."
"Apparently, others do call it art, but I don't know nothing about that." Evermor says. His motivation is not solely in the creation of something new but also the preservation of the old. His materials come from salvaged industrial parts, some of them dating to the nineteenth century.
"The objects that I'm working with are thrown away and disregarded," notes Evermor. But he gives them new life as sculpture and this artistic treatment lets the beauty of their design show.
"I do have tremendous respect for the people who designed all of this stuff," says Evermor who says today's industrial design lacks spirit. "You can see human hands touched this stuff that treated it with love and compassion and knew what they were doing."
Dr. Evermor also knows what he's doing by opening his fantastic world to the public: "I know it stimulates their imagine, their own spirit. It gets them thinking about something....It gives them the confidence to think they can go out and do something themselves. That's what I'm interested in, people working with their head, heart and hands."
You can see Dr. Evermor's Forevertron and other scrap metal sculptures in our virtual tour.