Time of the season: Planning an opera season is no small feat
by Brooke Jackson, PortalWisconsin.org
In the opera world, colossal is always in fashion. Opera demands huge voices, sets, orchestration, venues and audiences. Naturally, when it comes to planning an opera season, it's a big process. "We start planning a season two years ahead of time," explains Allan Naplan, general director of the Madison Opera. Naplan and artistic director John DeMain are the major forces driving the future of professional opera in Madison.
"There are about ten big hits that are 'tried and true' successes for the sake of the box office," says Naplan. Beyond those few hits, though, is an enormous world of potential productions that require the knowledge, resources and space to produce.
In 2004, the Overture Center for the Arts, Madison's major downtown arts complex, opened on the site of the former Madison Civic Center. The new space, occupied by a number of resident groups including the Madison Opera, offers state-of-the-art facilities for both performers and audiences. "Moving into the Overture Center gave us a huge opportunity to expand," Naplan observes.
And expand they did. Now in his third year as general director, Naplan has guided Madison Opera toward national recognition. His time in Madison has yielded many sold-out shows within full seasons that have included two major opera productions sandwiched around a smaller opera, an increasingly-popular "Opera in the Park" event that drew a record-breaking 12,500 people in 2007, and a subscription series with around 1,300 subscribers.
He's not stopping yet. Naplan plans to expand future seasons with more productions, enabling the opera to use the Overture Center's smaller spaces for more intimate, chamber-style productions.
Sorting through hundreds of operas and choosing a season involves much more than just picking a piece. Behind the decisions lie the challenging goals of selling individual tickets and subscriptions, cultivating artists, engaging audiences and mixing in lesser-known or newer works with the hits.
Naplan, one of the nation's youngest opera company general directors and a former professional opera tenor, is particularly interested in attracting younger audiences to a stereotypically "older" art form. "Opera is thriving," Naplan says, countering the stereotypes. "This art form is the currently the highest in attracting younger people. With opera, you get more bang for your buck."
With all this in mind, the process unfolds: When Naplan and DeMain have decided on an idea for a title, they shop around for productions to rent. Meanwhile, they keep abreast of productions around the nation, since sometimes they are struck by a particular production that will work its way into a season.
When they find productions they like, they analyze the fit for Madison and explore production rental availability. Production rentals include sets, props, supertitles and information on crew requirements, among other elements. Costumes are sometimes included or may be rented separately. The Madison Opera show is then cast, directed and built around the rented production. The fall 2007 production of "La Bohème" (opening Nov. 9) is rented from Canadian Opera.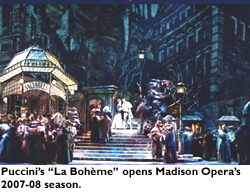 Meanwhile, Naplan and DeMain are perpetually wading through the immense talent pool of singers and watching developing singers with potential for future productions. "It's the nature of regional opera companies. We cultivate up-and-coming artists," says Naplan. They see hundreds of singers each year and attend auditions in New York to do casting. "We may hear a singer one year but not use them for four [years]."
Madison Opera has benefited from some star power. Sumi Jo, Stephen Costello and opera's new "it girl," Nicole Cabell, have recently graced the stage as the company grows in national regard as one of the top regional outfits.
Naplan also notes that "the quality level of productions is much higher" in the Overture Center facility, thanks to better lighting equipment, more wing space and some of the best acoustics in Madison.
The technical director, producer and costume manager are involved in planning and logistics, and over time, a production season is set.
Education and outreach are also a large part of the company's season. Naplan works to "personalize the bigger-than-life world of opera" through programming like "Opera up Close," a seminar on the productions; meet-the-artist events prior to opening night; and pre-show talks the night of the performance. "I don't want the audience to feel like they have to do homework before coming to a production."
Producing lesser-known works is also part of opera education. Doing one big hit a year makes producing smaller shows feasible. "We try to keep a healthy diet of hits and some new repertoire. It's part of the evolution of the organization." As a former professional artist, Naplan has his favorites: "I'd love to do Poulenc's 'Dialogues of the Carmelites' and Britten's 'A Midsummer's Night's Dream.'"
Naplan is also working to change what he considers a misperception that opera is too expensive. Student matinees and $16 tickets have helped encourage accessibility. He also believes that value comes from the overall experience: "From walking into the lobby with the excitement of a show, to the supertitles, to the theatricality—it's all part of the experience."
For information on Madison Opera's current productions, visit its Web site.