Wisconsin's own melting pot: Old World Wisconsin
by Jennifer Smith, PortalWisconsin.org
It's become a clich to describe American culture as a melting pot. That clich, however, holds a lot of truth. Wisconsin, like the rest of America, became home to immigrants from many different nations as it grew. While that vibrant mix gave birth to a new culture, the settlers also held on to elements from their original homelands.
Modern-day visitors can get a vivid glimpse of the different cultures that formed Wisconsin as we know it at Old World Wisconsin, located just 35 miles from Milwaukee in Eagle.
Old World Wisconsin is the nation's largest outdoor museum of rural life. Visitors can travel from re-created settlement to settlement, learning about the rugged Wisconsin life of the late 19th and early 20th centuries. Different portions of this sprawling outdoor compound bring to life the experiences of Danes, Finns, Germans, Norwegians, Poles, African-Americans and other groups. Costumed historical interpreters teach visitors about seasonal chores and other period activities of Wisconsinites.
Not only is Old World Wisconsin a great place to learn about the history of the Badger State, it's a wonderful spot to get a little exercise if you're so inclined. Nearly seventy historic structures—painstakingly researched and carefully moved to the site—are dotted among nearly 600 acres of wooded, gently rolling land and trails. You can lace up your tennis shoes and fit in a healthy walk as you "time travel" through various eras of Wisconsin history. If that doesn't suit you, however, you can also ride a tram.
Crossroads Village, set in the 1870s, forms the hub of the historic site. The village reflects the economic, social, religious and political aspects of a 19th-century town and its surrounding areas. It brings together a diversity of ethnic origins and occupations: "residents" include an Irish laundress, Norwegian wagon maker, Bohemian shoemaker, German blacksmith, English innkeeper and Welsh storekeeper. A town hall and church round out the bustling hamlet.
Fanning out from Crossroads Village are a number of individual farms representing different immigrant nationalities and eras. You can pay a visit to two different Finnish farms (representing 1897 and 1915), a Danish farm circa 1890, German farms of three different periods (1860, 1875 and 1880), a Polish house and a Norwegian school and farms.
The most recent addition to the exhibits at Old World Wisconsin is the Pleasant Ridge African-American pioneer area. The Grant County community of Pleasant Ridge began drawing African-American settlers in 1850, and this trend continued during and after the Civil War, particularly as free or escaped slaves headed north. Eventually, Pleasant Ridge was home to more than fifty African-Americans who, with local European-Americans, built a school, church and community hall. Today at Old World Wisconsin, visitors can see the original church as well as a replica of the Pleasant Ridge Cemetery.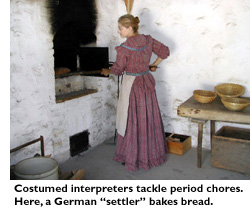 While a visit to Old World Wisconsin—walking its paths and conversing with the costumed interpreters who work there—is undoubtedly the best way to experience it, history buffs have a few other choices. A new, one-hour documentary, "Old World Stories," debuts on Wisconsin Public Television (WPT) at 7 p.m. Thursday, Aug. 28, 2003. Catch an encore broadcast on WPT at 10 p.m. on Monday, Sept. 1. WMVS-TV in Milwaukee will air the program at 10 p.m. Sunday, Aug. 24, and again at 11 p.m. Friday, Aug. 29.
The program is the latest production for the Wisconsin Collection, the long-term collaboration between Wisconsin Public Television and the Wisconsin Historical Society, which owns and operates Old World Wisconsin.
You can also make a "cybervisit" to Old World Wisconsin through PortalWisconsin.org's QuickTime panorama of the Norwegian area. The Web site of the Wisconsin Historical Society also offers a virtual tour through still photographs.
If you decide on an in-person visit, consider planning ahead to catch a special event. Find out how ordinary citizens coped with life during America's bloodiest conflict during the Civil War Encampment on August 30-31. The Encampment takes place from 10 a.m. to 5 p.m. each day. Visitors can meet soldiers from the 3rd Wisconsin Veteran Infantry and other area units.
Special events continue throughout the fall. Stroll along for an Autumn Lamplight Tour, thrill to the spooky tale of Count Dracula and learn about 19th-century Halloween customs in October, or take part in a variety of Christmas-themed events. You can search for events on PortalWisconsin.org or view the calendar on the Wisconsin Historical Society Web site.
Of course, you don't have to wait for a particular date to immerse yourself in Wisconsin's history and ethnic heritages. Demonstrations and programs happen every day. Any time the museum is open—daily from May 1 through October 31 for the 2003 season—you can interact with ordinary folks from Wisconsin's past as they go about their lives of hard work and persistence.