Whisked Away to Rock Island
by Benson Gardner, Portal Wisconsin
Everyone loves islands. There's something inherently peaceful about being surrounded by water. Or perhaps the peace comes from the sense of remoteness. Nothing's better for getting away from it all than feeling you've somehow reached the edge of the earth.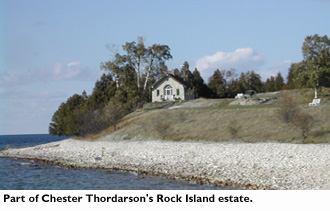 Few Wisconsin islands match the end-of-land feeling of Rock Island. Our predecessors must have agreed -- they built Wisconsin's first federal lighthouse on Lake Michigan there, the Pottawatomie Lighthouse. Yet Rock Island also houses some unique fruits of civilization -- some man-made structures of surprising romance.
Getting to this edge-of-the-world outpost requires passing through two other islands. The first is Northern Door County (commonly called a "peninsula," but astute map-gazers know otherwise); the second is Washington Island (accessible via ferry at Northport).
On the far end of Washington Island, a small passenger ferry goes to our last stop. As the boat closes in, the view of Rock Island gets gradually more startling, due to a large stone building at which a Norse longship might seem more welcome than the motorized ferry. This is the Viking Boathouse, centerpiece of the estate of the late Chester H. Thordarson. Thordarson came to the United States from Iceland as a young child in 1873. Though his formal schooling was limited and sporadic, he later invented the world's first million-volt electrical transformer (among other inventions), and started a modest electrical company in Chicago in 1894 which was to grow, making him rich.
And so it was that over a few years beginning in 1910, Thordarson was able to buy all available land on Rock Island -- everything but the small piece with the government's lighthouse on it (Thordarson's wife had some family ties to Washington Island, which might have influenced this choice.). Thordarson set about erecting stone structures reminiscent of Icelandic saga and other mythic settings (modern visitors may find it difficult not to mention The Lord of the Rings). Inside Viking Hall, three walls boast tall windows with views of the lake and shore. There's a horned chandelier and a fireplace big enough to swallow Thor himself. One can just imagine the epic blaze roaring behind Chester and his well-to-do friends. Littering the floor are stalwart pieces of wooden furniture with straight, high backs, thoroughly carved with runes and scenes from Norse legend. They're the noteable work of an Icelandic woodcarver, whom Thordarson brought to Rock Island in the 20th century, but they have the same mythic look as the rest of the Hall and much of the estate.
Yet if Viking Hall's ancient-times thrill doesn't turn your oar, there are other eras to experience here. A little museum gives enthralling glimpses into the early 20th century through memorabilia relating to Thordarson and the island.
The Pottawatomie Lighthouse still stands as well. It's not the original incarnation, but it is restored and once again open to visitors. You can sense the history--especially after discovering graves of old lighthouse keepers.
If old buildings still reek too much of modern civilization for you, you can always imagine the Native American tribes, like the Ojibway, who spent time on Rock Island, possibly as long ago as 500 B.C.
Or, go timeless by swimming at the beaches (sandy or stony) and walking miles of trails through terrain ranging from dark evergreen forests to rocky clifftops by the lake.
There's even an eerie shoreside clearing -- the site of a vanished fishing village. Gazing past it to open water, it's easy to place yourself in a different time, long ago -- and if you're not careful, you feel, you could fall off the earth.
View panoramic tours of both the lighthouse and boathouse in our digital media area.