Streets Without Cars: The Urban Experiment of State Street
"Streets Without Cars"
is an hour-long documentary
which will have its broadcast premiere on
Wisconsin Public Television
on Monday, July 15 at 7:00 p.m with a repeat on Tuesday, July 23, at 10:00 p.m.
This documentary, produced by independent filmmakers Troy Lanier and Brewer Stouffer, explores the national pedestrian mall movement through the lens of Madison's State Street. Here's a preview of "Streets Without Cars".
Postwar America witnessed a fundamental social shift as suburbs began to dominate the landscape. In order to attract people to otherwise foundering downtowns, many cities experimented with car-less pedestrian corridors. From the 1950s through the 1970s over 200 downtown pedestrian malls were constructed nationwide. "Streets Without Cars" explores why pedestrian malls were built and how one in particular-State Street of Madison, Wisconsin-has flourished.
"Streets Without Cars" chronicles the contemporary activity engendered through an anything-but-ordinary pedestrian urban experiment. As one of the most successful pedestrian malls in the nation, State Street is a thriving, provocative, and exciting urban space. On this corridor connecting the capitol of Wisconsin with the flagship state university, live the homeless, the enfranchised, and a cornucopia of characters that collectively make this eight-block strip.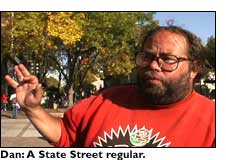 The two filmmakers, Lanier and Stouffer, took to the streets in the fall of 2000 with a Canon XL-1 to document the nightlife of this pedestrian mall, but quickly determined that a much larger story needed to be told. With an infrastructural redesign, State Street was on the verge of a major shift in its venerable history that could have profound effects on the culture of the street and downtown Madison. They set out in earnest to document life on State Street at the turn of the century, and "Streets Without Cars" is the culmination of this endeavor.
The filmmakers received a Wisconsin Arts Board grant for this project, and the filmmakers chatted about this project on PortalWisconsin.org on Tuesday, July 9 at 7:00 p.m.