Madison hosts two big summer writing events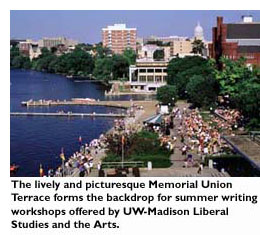 What's better for inspiring you to write than the lake view from the University of Wisconsin-Madison's
Memorial Union
Terrace? Sailboats glide by while you chat with new writer friends or an agent or editor.
The lakeside terrace is the backdrop for the "Write-by-the-Lake Writer's Workshop and Retreat," June 16-20, 2003, and the Writers Institute, July 10-11, 2003. Both are sponsored by UW-Madison Liberal Studies and the Arts.
In its fifth year, the June retreat is one of the few such week-long labs in the Midwest. It limits enrollments to provide an excellent learning environment, but there are plenty of sections to choose from: poetry, crafting plots, characterization, writing from your life, screenwriting, creativity, mystery and thriller writing, and writing for children.
The program began with 19 writers in 1999; this year will include over 75 writers-with many repeaters who enjoy the in-depth instruction and friendly atmosphere.
Notes Linda K. Hoard from Arizona, "Laurel Yourke has a gift for helping each poet in the class develop his or her writing in the best way. She individualizes instruction, but also teaches us all. She has a delightful sense of humor and a sincere desire to make sure we understand. It was a fun and encouraging and informative workshop!"
The retreat can be attended for noncredit or 1-3 graduate credits from the UW-Madison Department of English.
This year's special guest instructor is Jeremiah Healy from Boston, the creator of the John Francis Cuddy private investigator series, and under the pseudonym Terry Devane, the Mairead O'Clare legal-thriller series.
Healy, a Shamus awardee, is also a past keynoter for the Writers Institute, now in its fourteenth year. Last year it received the National University Continuing Education Association's 2002 Phillip E. Frandson Award for Sustained Excellence.
Each year 200 writers gather at this conference to learn from agents, editors, publishers, published authors and freelancers.
"I attended the Writers Institute last summer, and it was an extremely positive (if not life-changing) few days for me. In the months since, I've secured a book deal and publication in the New York Times," wrote Laura Schaefer, Madison, Wis.
This year's keynoter is Alexs D. Pate, author of the bestselling Amistad: The Novel.
Featured agents are: Cathy Fowler, Redwood Agency, Mill Valley, Calif.; Michelle Grajkowski, Three Seas Literary Agency, Madison, Wis.; and Jonathon Lazear, The Lazear Agency, Minneapolis, Minn.
Director of the event, Christine DeSmet, UW-Madison Liberal Studies and the Arts, explains, "This conference is unique in that it brings both fiction and nonfiction writers together to share techniques that can improve their writing and careers. Many conferences focus only on fiction, for example. Here, we think the mix provides an especially invigorating and creative atmosphere. So far, our attendees love it. We see a lot of writers come back again and again to update themselves on all aspects of publishing."
This year's program includes a writing contest and plenty of time to chat about your project with agents. Beginners and pros will find sessions geared to their interests in such topics as freelancing for magazines, science fiction, mystery writing, the publishing process, how to become an agent, selling to small presses, writing and illustrating for children, poetry, nonfiction proposals, characterization, making a career while staying home with children, writing style, memoir and many others.
The conference is known for gathering together a roster of award-winning writers; this year's roster includes the 2003 Caldecott winner in children's literature, Eric Rohmann.
Brochures for these events are online. Visit http://www.dcs.wisc.edu/lsa/writing or contact coordinator Christine DeSmet at 608-262-3447 or via e-mail at cdesmet@dcs.wisc.edu.