Young photographers' work showcased at imageide@s
by Tammy Kempfert, PortalWisconsin.org
These days, everyone's a photographer. With the accessibility of digital cameras, camera phones and photo-sharing Internet sites like Flickr, people are snapping more pictures than ever before and displaying them for larger audiences.
But as artist and teacher Terri Colamatteo would say, all photographs are not created equal. "A good photograph should obviously document time, an event, people's lives - but it's at its most valuable when it evokes an emotion," says Colamatteo, who teaches art at Portage High School. She recently served as one of three judges in the 2008 imageide@s Student Digital Photo Contest.
The student contest coincided with the launch of imageide@s, a new online repository of copyright-free digital photographs developed especially for Wisconsin teachers. Students were invited to submit images in two categories, under Wisconsin-related topics or general education topics, in either the middle school or high school age divisions. Twelve winners received new iPods or digital cameras and had their work featured on the imageide@s Web site.
Colamatteo says the judges used a ratings system to score entries - 513 images in total, from 73 Wisconsin students. She based her rankings on clarity, composition, color and emotional impact. "It was a difficult process," she says. "I have a tendency to have really high standards."
One entry measuring up to all the judges' standards is Bond. Submitted by Anna Hutchcroft, then a senior at Madison Memorial High School, Bond took first place in the High School, General Education category. Hers was the only submission to receive a perfect score.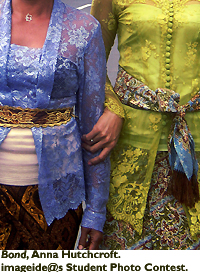 Hutchcroft snapped the winning photograph while vacationing with her family in Bali, Indonesia. "As we were driving around the rice terraces, there was a procession of brightly clad women in traditional Indonesian dresses. I immediately asked if we could stop so that I could take some pictures," she says. "Catching this procession was a treat for the eyes."
Hutchcroft's entry was a treat for the judges as well, says Colamatteo, in part because of its unusual focal point. The shot features the torsos of two women, both dressed in boldly colored, lacy layers, one grasping the other's arm. Without the subjects' faces in view, the photograph emphasizes lush color, texture and touch.
Hutchcroft says she only recently decided to crop the image for effect. "I felt that the crop was appropriate because it highlighted all the major components of the photograph without making the overall composition cluttered or overwhelming. It got the point across in the simplest way possible," she says.
Another winning image, My Fair Lady, by Dodgeville Middle School student Allison Reed, was a standout for Colamatteo. "It's a very powerful photograph," she says. "The angle is unusual. The composition - with the female in the foreground and all the other elements blurred into the background - is incredible. There's this whole sense of time and of period. Here is a student who, in 8th grade, has an understanding of basic art fundamentals."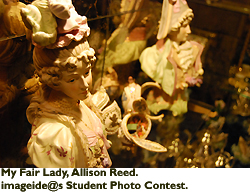 Hutchcroft's and Reed's first-place photographs, along with ten others, now share Web space with the more than 2,000 images catalogued for teacher use at imageide@s. The image repository is an extention of the ide@s project, a standards-based internet storehouse of lesson plans, student materials, interactive tools and links, all reviewed by and for Wisconsin teachers.
Project Coordinator Jeff Horney says ide@s staff created imageide@s to fill the expressed needs of site users. "We heard from librarians and other teachers across the state that they needed a safe place to send kids to find images for slide presentations, written reports and web pages," he says. Teachers also wanted to use the images to enhance their own instructional materials.
Now, teachers can search imageide@s for digital photos that span 24 different subject areas, as well as 16 distinct categories (for example, animals, plants, and architecture) with content often specific to Wisconsin. Contributors to the site are teachers themselves, trained by site administrators to take and gather photographs most relevant to their colleagues.
Horney says teachers appreciate the consistent quality of the public domain images they find on the imageide@s Web site. And unlike many of the images on Yahoo or Google Images, imageide@s content includes descriptive tags, relevant Web links and user control over resolution and size.
Next up, the imageide@s team is exploring the possibility of adding geo-tags to some site content. They have invited contributors to write proposals describing how global positioning software and photography might be used as learning tools. With GPS, photographers can create maps, web pages or other documents that connect image to place, Horney explains. "This can be useful in studying geography, geology, map skills or in creating a virtual field trip. When we bring in tools such as Google Earth, you can see a location from a satellite view or from the photographer's view."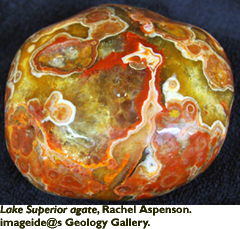 Due to the success of this year's student photo contest, ide@s staff have plans underway for a second one. Contest submissions helped stock the imageide@s repository--and the event drew at least 73 Wisconsin students and their teachers to the new resource. Further, Horney says, the contest showcases students' photographs for the educational community in Wisconsin and beyond. And, he adds, "We heard from students that this helped them think about photography in a deeper way."
As a judge, Colamatteo says she appreciates the chance the contest gave students to think about art. Photography, she says, teaches children how to see colors, textures and forms in the world, "and when the world is narrowed through that photographic lens, they determine what stands out and what they want to emphasize." Without basic art skills, she asks, "how will they learn to look at the world critically?"
Contest winner Anna Hutchcroft agrees. "This is going to sound cliche," she admits, "but photography helped me look at the world in a whole new way. I began to look at everything as a potential photograph, and it's taught me to look for beauty in the most unlikely of places." Since the contest, she's started a major in photojournalism in Australia, where, she reports, she has been enjoying her new iPod Classic, an imageide@s contest prize.