The Wormfarm Institute: fertile ground for art and agriculture
by Tammy Kempfert, PortalWisconsin.org
In the shadow of the Wisconsin Dells—that guilty concrete and neon pleasure that annually draws legions of thrill-seekers to south central Wisconsin—lie the seeds of rural renewal. There, artist-farmers Donna Neuwirth and Jay Salinas have made cultivating connections between art, agriculture and community their lifework. They are the founders of the Wormfarm Institute, a non-profit located just outside of Reedsburg. Their efforts have earned them some regional admiration and, recently, a prestigious state arts award.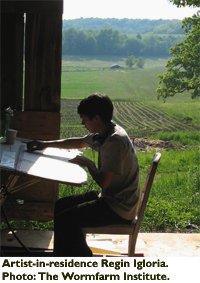 Neuwirth and Salinas's journey began fifteen years ago when they chose to leave Chicago for their Sauk County farm. They arrived with dreams of open spaces, natural beauty and adventure—and without a plan. "There was no business plan, no preparation for a huge life change," Neuwirth recalls. "We thought, what the heck? We can always come back [to Chicago]."
But they stayed—and in the process of their huge life change, they created change in their adopted community, too, bringing the stuff of renaissance to Reedsburg, things like sustainable farming, arts programming and artist visitors from around the world.
The two soon discovered their love of growing organic vegetables, and they ventured into the CSA movement (for Community-Supported Agriculture) for a while, selling shares of their harvest to area urbanites. Back then, their Chicago shareholders took turns making the four-hour drive to pick up and deliver boxes of Wormfarm-grown produce, so Neuwirth and Salinas eventually provided them accommodations in the converted second floor apartment of their farmhouse. The popularity of these farmstays proved to Salinas and Neuwirth that their customers craved more than fresh vegetables. They also wanted a relationship with the land and the growers that produced their food.
Before long, the two began offering housing to fellow artists as well. "They helped in the garden, and we gave them a place to stay," says Neuwirth. "We had something of value to them, and they had something of value to us."
These realizations—of eaters divorced from the sources of their food, of the interdependence and diversity necessary to thriving communities, of their own passion for both the arts and agriculture— led Neuwirth and Salinas to form the non-profit Wormfarm Institute. Through the Institute, the two can now pursue the intersection of artistic and agrarian values in more structured ways. Neuwirth articulates the Wormfarm's mission: "We are in the fertile soil business—literal fertile soil for nutritious vegetables, and metaphorical fertile soil for creative work."
The centerpiece of the Wormfarm's arts offerings is its artist residency program. Salinas and Neuwirth provide artists, writers and performers with accommodations, studio space and a whole lot of pastoral inspiration. In return, artists-in-residence agree to work at least 15 hours each week on the farm and to share their art "crop" with the community surrounding Reedsburg. This sharing usually means planning and presenting some form of public exhibition of the their work, as well as donating one art piece to the Wormfarm art collection. Currently, the Institute hosts up to four visiting artists at once, for up to six months each.
The residency program has thrived. Artists come from everywhere, including both American coasts, and as far away as Barcelona, Spain. "Many are recently urban but with a rural or small town past. Some in the application process confess to never having been on a farm," Neuwirth says. "For a great many, the connection to the land has great meaning, and that meaning is expressed subtly or overtly in their work."
The exhibition phase of the residency program is one portion of the Wormfarm Institute's impact on its neighbors. To describe the host of other ways it has strived to engage the surrounding community, Wormfarm and friends coined a term: cultureshed. Cultureshed, as defined on the Institute's Web site, is "an area nourished by what is cultivated locally...fed by pools of human and natural history...the efforts of writers, artists, performers, scholars and chefs who contribute to a vital and diverse culture."
To that end, the Wormfarm Institute has kept itself busy. It has, for example, supported the design and installation of the Reedsburg History Murals. Three have been completed so far—Woolen Mill, painted on the side of the old mill-turned-art gallery that was once powered by the Baraboo River; Rails to Trails, along the 400 State Bike Trail headquartered at the historic Reedsburg Depot; and most recently a mural depicting the hops boom of the 1860s. The murals are meant to bring attention to area artists, illuminate local history and foster community pride.
For four years, the Institute also hosted the Reedikulus Puppet Festival and Parade to coincide with Reedsburg's annual July festival, Reedikulus Days. The Puppet Festival, funded in large part by the Wisconsin Arts Board, offers a week of free puppet-making workshops that help participants turn discarded materials
into giant, showy puppets, sometimes as tall as 12 feet. It's an event that Neuwirth says is ripe for exploitation. "If supported, [Puppet Fest] could grow into a tourism destination that not only puts art, creativity and recycling right on Main Street but is tied to a long history." It's good for children, good for local businesses and the environment, she says, "and most importantly, for the collective imagination."
Other successful ventures include a nine-month project called The Re-Enchantment of Agriculture in Sauk County, funded in part by the Wisconsin Humanities Council. County artists and farmers worked together to examine the ways creativity, agricultural sustainability and community welfare come together, toward the goal of "putting culture back into agriculture." But through the project, Neuwirth says, "It became clear that putting the 'agri' back in the culture was at least as important as putting the 'culture' back in the agriculture. When farming was more integrated into most people's lives, celebrations of planting, fertility and harvest included music, art, ritual, dance and was inseparable from the activity of growing food." So successful was the Sauk County series that it recently evolved into a statewide initiative.
This year, the Wormfarm Institute received the Robert E. Gard-Wisconsin Idea Award for Excellence. Given annually to an individual or organization, the Gard Award recognizes contributions that promote the understanding of the need for art in daily life. It's an exciting time for the Institute, Neuwirth says. "There is every reason to believe that with committed people, good food and institutional support, there can be a 21st century rural renaissance."
There is every reason to believe as well that a modern rural renaissance might have some roots near Reedsburg.